The third image that I will be interpreting will be towards the end of the book when Julia and Wiston get caught by the Thought Police . This image will show when Julia is rolling around on the floor after being beaten .
She is described to have a 'livid, gasping face' she is trying to get her breath back . I would like to cover the models face with material to show this gasping air. If this does not create the desired outcome I will show the face of Julia moving using Long exposure .
Julia's face is described as yellow and her rouge on her cheeks appears to be not connected to her face .
This image needs to project fear , with a shaking body .
Head shot
Camera : Looking down on the face
Strong lighting
White background
Clinical
Make up : Yellow tones in face , strong contouring , Blusher strong line to appear like its falling of the face .
Hair : Half wavy half victory rolls
Styling : no clothes , heavy contouring down the neck and shoulders
Here is some imagery that I have collected that shows how I envisage the pose and final image . As I would like to shoot two images for my head shot one using a mesh over the face to represent Julia being trapped and caught by Big Brother and a second image using long exposure I have gathered images for both .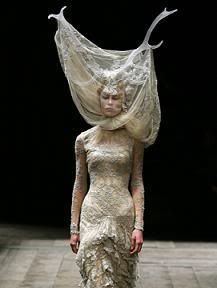 Image found : http://i66.photobucket.com/albums/h271/andrefaisal/v42trends_masks3.jpg
Image Found : http://1.bp.blogspot.com/-1vLnvCgJ2CQ/Tyh3kROoX1I/AAAAAAAAAKc/SZKnCy1h6Rs/s1600/mcqueen2.png
Image Found : http://3.bp.blogspot.com/-Yj20Dk7aBnA/TwkKBTRqFwI/AAAAAAAAJUk/jgydBeLugQ0/s1600/tumblr_lxdtripWvS1qaxnilo1_500.jpg
In this scene in the book Julia's face is described to turn yellow and the iris of her eye is bright white . I like how the yellow is dripping in this image I will use this and experiment with testing to she how I can get the make up to appear to be dripping or add shine .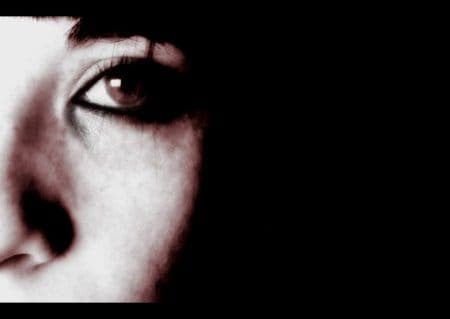 Image found : http://lovesagame.com/wp-content/uploads/fear.jpg
This image captures fear with just the eye, lighting , and position of the model .
Lighting
Image Found:http://www.wallpapermay.com/thumbnails/detail/20120710/women%20black%20and%20white%20megan%20fox%20actress%20models%20celebrity%20megan%20portraits%201680x1050%20wallpaper_www.wallpapermay.com_3.jpg
Image found : http://weandthecolor.com/wp-content/uploads/2012/11/Black-and-White-Portrait-by-David-Benoliel-Photography-34557-600x800.jpg
Both these images show bright lighting used against the face which is how I would like to light my final image I would like it to appear almost overexposed to show the skin and the illusion of the potlight of Big Brother on Julia .
Image Found : http://2.bp.blogspot.com/-dEb199WQpog/UVUbHwdYWEI/AAAAAAADu_w/XfRuiZpxf00/s1600/1304-int-seduction-ktr-01a.jpg
Image Found: http://1.bp.blogspot.com/-L7lBhUASR4k/UVUbP3Jh7zI/AAAAAAADvAs/X53ZC2Wzmlk/s1600/1304-int-seduction-ktr-06b.jpg
Image Found : http://media-cache-lt0.pinterest.com/192x/e2/be/5c/e2be5cb9f50a38d5ffdaca0e5bdfdff2.jpg
Image Found : http://wearesodroee.files.wordpress.com/2013/03/sasha-pivovarova-by-craig-mcdean-for-interview-magazine-april-2013-2.jpg?w=604&h=799
These are a few images of mesh covering the face I like how the face appears distorted through the mesh when Julia is rolling around on the floor she is described to have a "contorted" face.